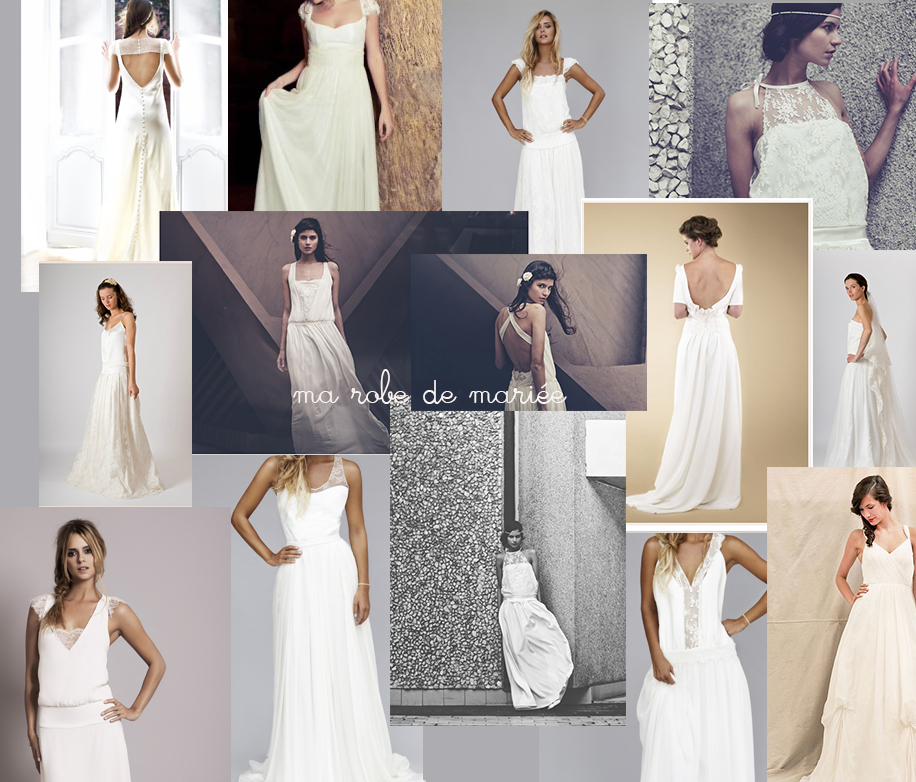 Allez, un petit wedding post, juste pour faire partager ma vie de « bride to be » (ou plus clairement future mariée). En fait, je vais vous montrer ma planche d'inspiration. Cette planche, je me l'ai faite au début de mes recherches. Je m'étais même dit que j'allais me la faire faire ma robe par une couturière, une créatrice . Sur mesure, le rêve ! Une jolie robe, faite exclusivement pour moi, selon ma personnalité, selon ma morphologie, selon mes goûts. Mais aussi une sacrée angoisse, aucun support tissu et textile pour se projeter. Seulement une toile !  Pourtant, je n'ai jamais beaucoup de mal pour me projeter mais pour un jour aussi important je n'ai pas pu prendre le risque! Pour celles qui l'ont fait ce pas, pouvez-vous me dire si vous avez été comblées?
J'ai au fil de ma quête de la robe, rencontrer des créatrices génialissimes,  je pense aux deux Stéphanies: sur Paris, Stéphanie Wolff, adorable et très abordable. Un plaisir d'être reçue dans son petit appartement/atelier et d'essayer pleins de jolies robes. Et Stéphanie, de Louise Dentelle, à Toulouse cette fois, vraiment très à l'écoute et supra gentille.Je suis restée très longtemps, et elle a été tellement patiente avec moi… J'ai été dans d'autres boutiques, chez d'autres créatrices où finalement, on ne rencontre pas la créatrices et où les « vendeuses » ne veulent absolument pas prendre du temps avec nous, futures mariées.
Tout cela pour dire, que finalement j'ai trouvé LA robe, MA robe. Elle est parmi toutes celles que je vous montre. Je n'ai pas rencontré (encore) la créatrice mais en tout cas, les filles de l'atelier étaient juste très gentilles, elles m'ont proposé à chaque fois quelque chose à boire et même à manger! Elles ont pris les temps avec moi…et j'aime!